Ours horses rides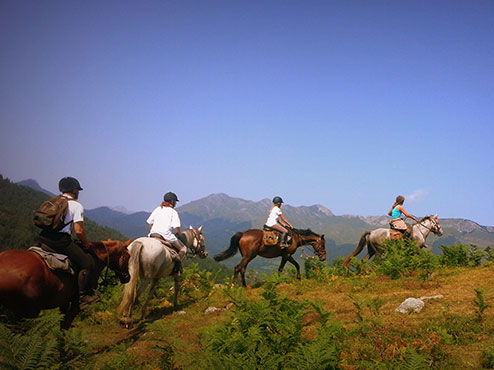 Our Riding Farm offers round-the-year guided horseback rides for everyone: families (children over 1m30 for the horses), or groups of friends. Breathe in the fresh air and have fun.
Whether you're a beginner or an experienced rider, our horses will help you discover or enjoy the pleasure of riding in an exceptional natural setting. Several itineraries are possible, always accompanied by a qualified instructor.
Rides last between 1 and 3 hours, according to your level and what you feel like. We even offer whole-day rides in summer.
We put together different groups according to riders' experience, for the comfort and safety of each participant. We offer three levels: beginner (just walking), medium (walking and trotting, occasionally cantering if the general level of the group allows), or advanced (walk, trot and gallop).
So come and experience your very first ride ! Everyone can enjoy a ride as a total beginner; our horses are calm, gentle and well-trained. They know the environment perfectly as they were born and raised right here, in our summer pastures.
Beginners start off in very small groups, with explanations about basic rules (steering the horse, going forward, stopping) and safety rules. The instructor is beside you all the time to guide you. The only goal is to help you to enjoy this new adventure. For inexperienced riders, horses will simply walk; there is no trotting or galloping at beginner level. A team of highly competent, motivated and dynamic young people will help you, and it's in this friendly, family environment that we'll introduce you to riding out-of-doors.
Safety is our first priority, so you'll be taking no risks, however good a rider you are.
Experienced horsemen will be able to undertake more challenging rides, with several stretches taken at a gallop, for the fun of it !
Useful information
Booking is highly recommended (group levels, limited number of hours work for each horse, limited numbers in each group…).
What to wear: full length trousers, comfortable lace-up shoes (shorts, sandals and ballet pumps are not suitable). Riding helmets are provided.
An important point, if we don't know the riders we consider that an advanced level rider is able to keep their balance and control the horse when walking, trotting or galloping out-of-doors. For obvious safety reasons, you must give us a precise indication of your level. Don't overestimate your riding skills ! This is true for yourself, but also for your children (e.g. "my child has passed Gallup 3, but he's really level 4 or 5!"). You will be putting yourself or your child at risk, and the group concerned may suffer if you get it wrong ! We only take into consideration written proof of riding competence (which is sometimes higher than the actual level…), and/or experience in riding out-of-doors. Don't forget that your main reason for coming here is to ride through the countryside, and discover the area, not to show off your skills ! Most of the time instructors will ask you to keep loose reins… all our horses are very calm.